The St. Vincent de Paul Society, St. Luke Conference has been responsible for operating the Food Pantry since 2011. The Food Pantry receives contributions of food from parishioners and others and buys food using Society funds. Some food is bought from The Food Bank of Monmouth and Ocean Counties in Neptune, NJ and some is bought from local supermarkets. The St. Luke Food Pantry has been participating in the USDA Emergency Food Assistance Program and the New Jersey State Food Purchase Program for over six years . This allows us to better serve those whom we help with a wider variety and larger quantity of food. Under a Federal grant the Food Pantry was able to purchase a three-door commercial freezer and a commercial refrigerator.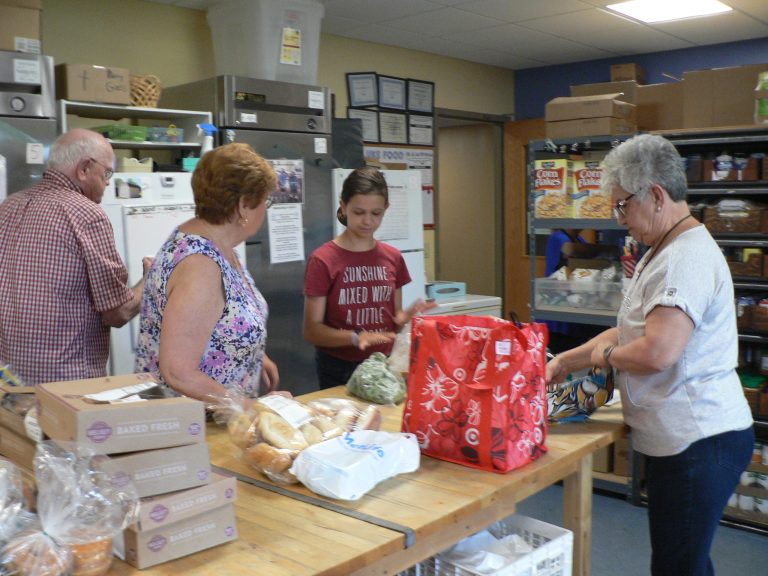 Our Acquisition Ministry forages for perishable food for the Food Pantry from supermarkets, delis, bakeries and convenience stores. Volunteers contact providers and others go out and pick up bread, rolls and bagels. Food Pantry volunteers repackage some products in ziplock bags. A convenience store provides frozen breakfast sandwiches, sandwiches and snacks twice a week. Perishable food, surplus to the pantry's need, is given to area soup kitchens where it is used immediately.
In 2018, a group of volunteers, with assistance from two Master Gardeners, built a vegetable garden on land behind the church. This allowed us to raise and distribute fresh, nutritious vegetables to our guests. This year our gardeners started planting early in the Spring so we are anticipating two bumper crops this growing season.
American Hotel Supply gives us many items that are either returned to them or the packaging is damaged including towels, pillows and pillowcases, sheets, blankets hand towels, face cloths, rags, shower curtains sewing kits and vanity kits. Also soap, toothpaste, body wash, body lotion ,shampoo, conditioner and deodorant. We further distribute these items to over 25 charitable and non-profit healthcare organizations.
The Food Pantry distributes food on Monday, Wednesday and Friday from 10:00 AM until 12:45 PM. Anyone who lives within the geographical boundaries of St. Luke's Parish or is a parish member is eligible to receive food. Each family is eligible to receive a food allotment once a month. They can return at any time for more bread. The amount of food distributed each month is based on the number of persons in the family. In 2018, the pantry served an average of 162 families a month with a total for the year of over 13,000 bags of groceries. St Luke no longer supplies Gift Cards.The Food Pantry will only be providing gift cards received quarterly from Ocean County Social Services through their grant program. Anyone applying who is found not to live within the parish boundaries, will be given a one-time emergency food allotment and directed to the Food Pantry in their neighborhood.